Hotel Reservation Instructions
The ITC Congress Organizer has secured competitive rates for delegates at selected hotels close to the Xi'an Qujiang International Conference Center, to meet a range of budgets and preferences.
Hotel reservation for all paid delegates will be open from
January 13, 2020 to August 10, 2020
.
Rooms are reserved on the first-come-first-serve basis and subject to availability.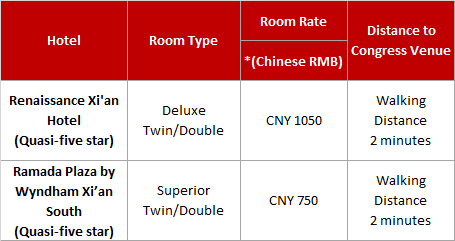 * Room rates are inclusive of 1-2breakfast(s), service charges/taxes and in-room wireless Internet access,but exclusiveof any bank charge service fees and incidental charges.
* Payment will be charged in Chinese RMB.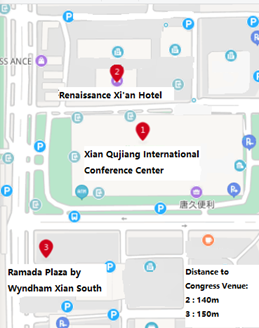 Hotel Reservation
The hotel booking system will be open to delegates who have registered for the ITC2020 and settled their registration fees.
Full payment is required to secure the booking of the hotels listed above. If payment is not received within 2 days after the booking request is placed, the request will be cancelled.
For group booking of more than 10 rooms, please email the request to:
itc2020@126.com
Cancellation & Refund Policy
Amendments and cancellations can be made by
August 8, 2020.
Requests for extension of stays are subject to availability. Requests must be made by e-mail to the hotel booking department by the deadline.
5% of the overall payment will be deducted from the refund for cancellation and shorten of stays requests raised by
August 8, 2020.
No refund will be made for requests of shorten of stays or cancellation raised after
August 8, 2020.
General Terms & Conditions
Standard check-in is available from 14:00 and check-out at 12:00. Early check-in or late check-out (after 12:00) cannot be guaranteed and may subject to extra charges.
Please fill in the guest names (as printed in the passport) under the personal Information page to avoid any inconvenience
during check-in.
A deposit, either in cash or with a credit card, may be required at check-in in accordance with the hotel policy.
Special requests, such as extra-bed, are subject to availability and a surcharge.
Date and time are all based on Beijing Time (GMT+8).
If you want to change or extend your hotel booking, please contact us at:
Contact: Mr. Wang Cong
Tel: +86-10-53306106
E-mail: itc2020@126.com